Sold
Water
2020 Exhibition
Available
Commissions

Heather Horton's work focuses on internal states, contemplative narratives and often has a personal connection to her own life.
She was born and raised in Burlington, Ontario, Canada. She attended McMaster University where she received a Bachelor of Arts in English Literature. She then went on graduate from the well-respected Interpretive Illustration program at Sheridan College.
Heather has been exhibiting regularly since 2004 when she joined Abbozzo Gallery, and has had numerous solo and group exhibitions over the years. Her most recent solo exhibition was in Toronto, Ontario in September, 2020 titled "Love Story".  
Heather's work will be featured in the upcoming exhibition "Woman", held at the James Baird Gallery in Pouch Cove, Newfoundland in October 2022.
 Heather's work can be found in private and corporate collections worldwide.
A selection of her paintings is now a part of the permanent collection at the Canadian Embassy in Ankara, Turkey, as well as part of the Government of Ontario's permanent collection.
Several of Horton's paintings can be seen in the Lionsgate film "A Simple Favor", starring Blake Lively, Anna Kendrick, and directed by Paul Feig.
Heather has been profiled by Bravo! Canada series The Artist's Life.
She is represented by Abbozzo Gallery in Toronto, Ontario, Canada
___________________
Heather's solo exhibition Love Story was in September 2020
Visit www.twitch.tv/heather_horton to watch the virtual gallery tour filmed live on September 11th. 
The catalogue for the show can be viewed here: https://issuu.com/abbozzogallery/docs/heather_horton_2020_catalogue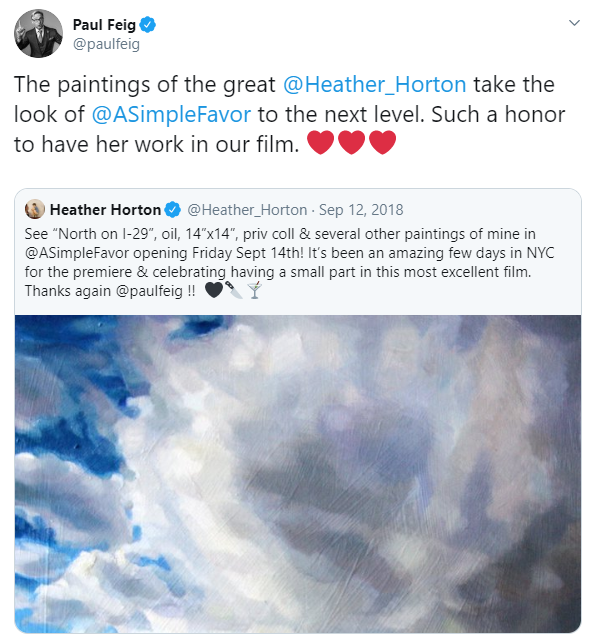 Paul Feig
American actor and filmmaker. Director of the black comedy mystery film A Simple Favor (2018) featuring paintings by Heather Horton.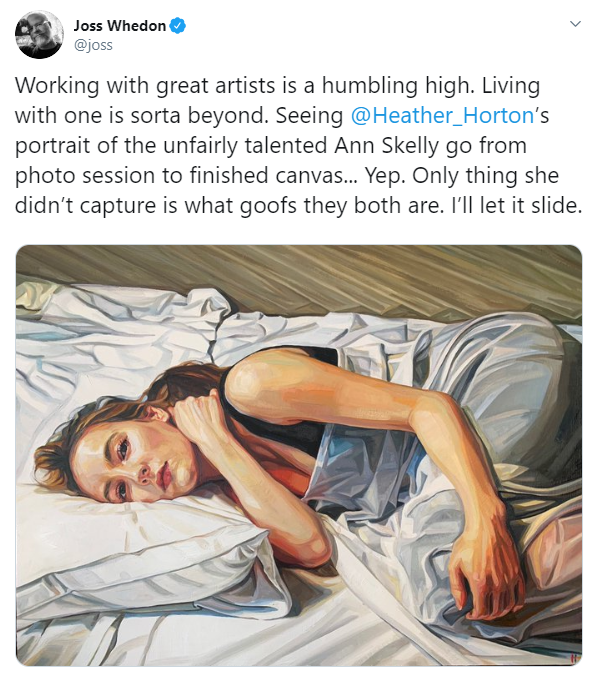 Joss Whedon
Producer, director, screenwriter, comic book writer, and composer.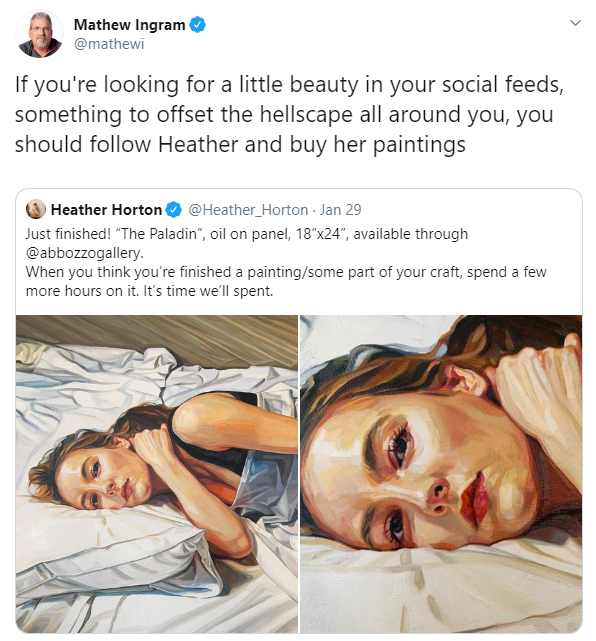 Mathew Ingram
Chief digital writer for the Columbia Journalism Review.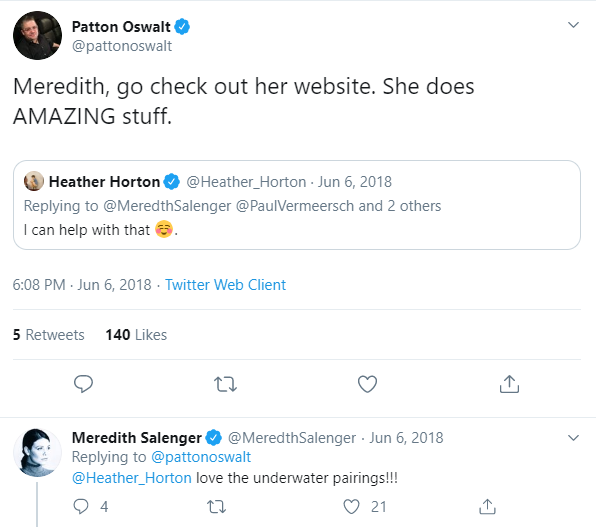 Patton Oswalt
Stand-up comedian, actor, voice actor, and writer.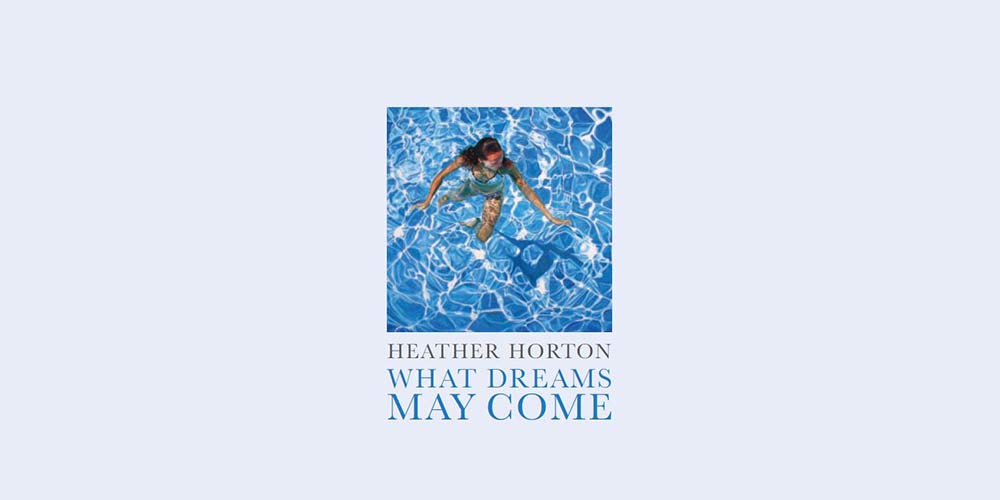 What Dreams May Come 2016
An exhibition of new paintings by Heather Horton, featuring a short essay by Betty Ann Jordan (Toronto arts writer and cultural tour leader).
24 pages, Released at Abbozzo Gallery, September 2016.
Published by Abbozzo Gallery
Photography of all paintings by Heather Horton
Page Layout and Design by Mimosa Creative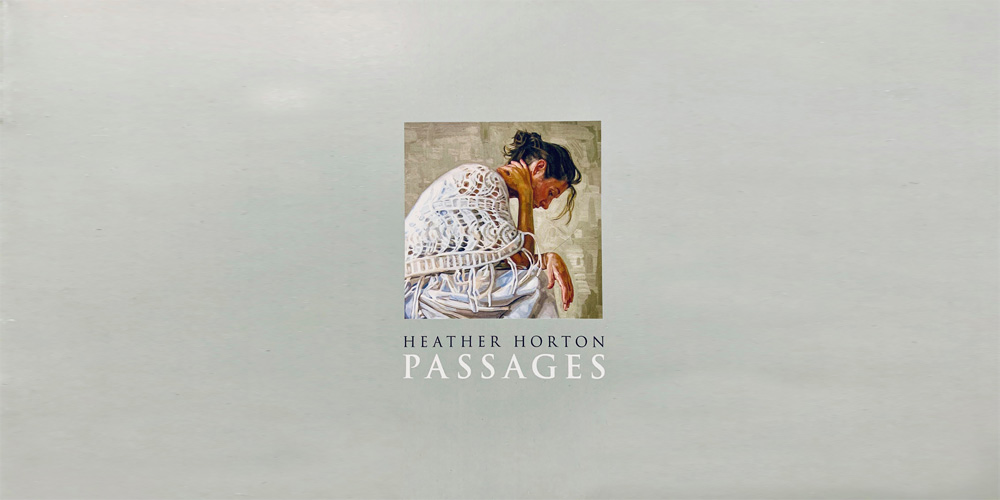 Passages 2007
Heather's first solo exhibition with Abbozzo gallery. This book is a collection of each piece from the exhibition. Featuring a forward by Ken Forsyth (Independent Fine Art Appraiser). 
27 pages, Released at Abbozzo Gallery, September 2007.
Published by Abbozzo Gallery
Photography of all paintings by Heather Horton
Page Layout and Design by Greenlight Graphics
For purchase inquires please contact Abbozzo Gallery at mail@abbozzogallery.com or 1 (866) 844-4481