Sold
Water
2020 Exhibition
Available
Commissions

Heather Horton's work focuses on internal states, contemplative narratives and often has a personal connection to her own life.
She was born and raised in Burlington, Ontario, Canada. She attended McMaster University where she received a Bachelor of Arts in English Literature. She then went on graduate from the well-respected Interpretive Illustration program at Sheridan College.
Heather has been exhibiting regularly since 2004 when she joined Abbozzo Gallery, and has had numerous solo and group exhibitions over the years. Her most recent solo exhibition was in Toronto, Ontario in September, 2020 titled "Love Story".  
Heather's work will be featured in the upcoming exhibition "Woman", held at the James Baird Gallery in Pouch Cove, Newfoundland in October 2022.
 Heather's work can be found in private and corporate collections worldwide.
A selection of her paintings is now a part of the permanent collection at the Canadian Embassy in Ankara, Turkey, as well as part of the Government of Ontario's permanent collection.
Several of Horton's paintings can be seen in the Lionsgate film "A Simple Favor", starring Blake Lively, Anna Kendrick, and directed by Paul Feig.
Heather has been profiled by Bravo! Canada series The Artist's Life.
She is represented by Abbozzo Gallery in Toronto, Ontario, Canada
___________________
Heather's solo exhibition Love Story was in September 2020
Visit www.twitch.tv/heather_horton to watch the virtual gallery tour filmed live on September 11th. 
The catalogue for the show can be viewed here: https://issuu.com/abbozzogallery/docs/heather_horton_2020_catalogue
"IMMERSION" – October 2023
Acclaimed fine artist Heather Horton is set to unveil her latest show, Immersion, at Whimsy Pasadena from October 14 to 22. Heather's 16th solo show continues her exploration of the internal complexities within simple moments; exploring trauma, womanhood, deep pain and deeper gratitude, leading us past the representational into a kind of magical realism that denotes, above all things, wonder.
Premiering over 30 new oil paintings, Immersion brings new light (literally) to her popular water series, taking us under the surface into a twilight fantasia of luminous silence. Fabric, flesh,and liquid intermingle and nearly dissolve into one another, all touched by the wild and languid light play from above. Immersion also charts her progression as subject/object/model, of a relationship to her own body coming through years of anorexia and depression to a confidence and grace (that was challenged by major spinal surgery last spring). Having portrayed her body's punishing wane with a surgical detachment more powerful than any metaphoric flourish, she now bares herself with a serene exuberance that is sensuous but never exploitative. 
Heather work has always been a way of bringing order to a life marked by quiet chaos. An unstable childhood brought out a self-reliant determination, as well as a sensitivity to mood and movement (that can bloom into hyper-vigilance and issues with sensory overload). These have always drawn her to the quiet, the bare, the overlooked. She's trekked to (and lived in) remote, wintry, and occasionally dangerous places, where life struggles to find perch, where beauty is both fragile and indomitable. Her portraits and figures have that same tender distance: her subjects look away, or are seen from the back, or with heads above a surface we can't breach. She interprets the world with a delight that never devolves into sentiment or emotional spoon-feeding. She invites the viewer to journey as well, to create their own meanings. As Heather puts it: "I do not like things that are given to me."
She's applied that ethic to Immersion by breaking with her tradition of showing her patrons and followers works as they progress. Over half the paintings in the show have never been seen; those who attend will reclaim that singular experience of discovery (and have a greater opportunity to take a piece home, as most usually sell pre-show).
Heather Horton's works hang in private, corporate and government collections. They have been used for book and album covers (and one beer label), were heavily featured in Paul Feig's "A Simple Favor", and are about to reach the moon. Heather recently moved to Pasadena; this show is her US debut."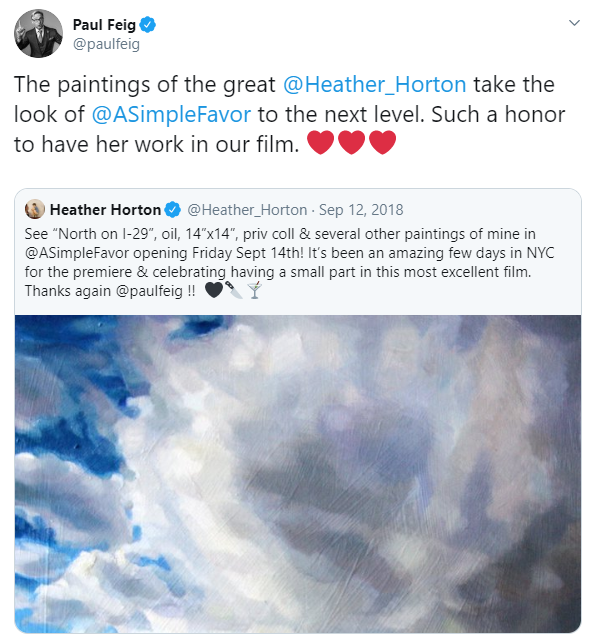 Paul Feig
American actor and filmmaker. Director of the black comedy mystery film A Simple Favor (2018) featuring paintings by Heather Horton.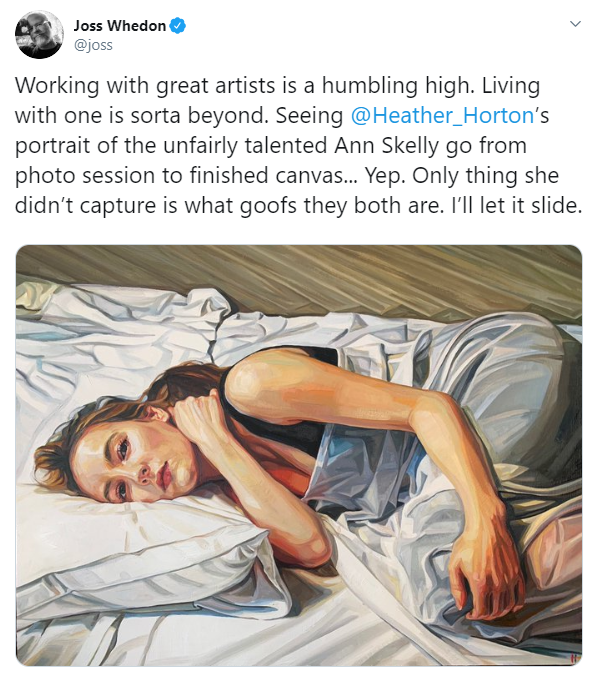 Joss Whedon
Producer, director, screenwriter, comic book writer, and composer.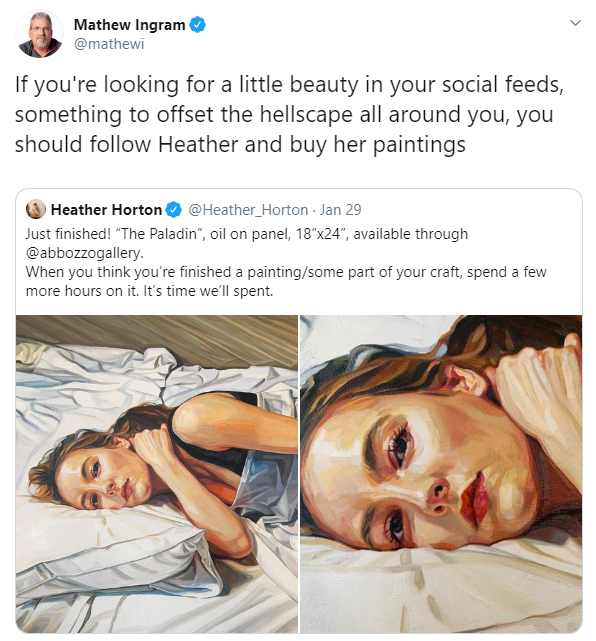 Mathew Ingram
Chief digital writer for the Columbia Journalism Review.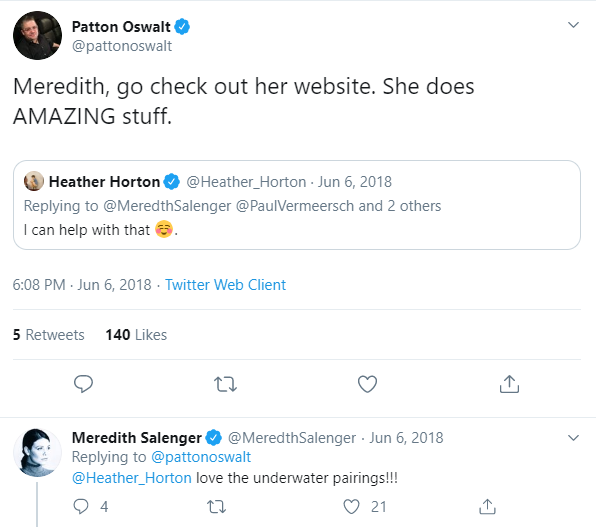 Patton Oswalt
Stand-up comedian, actor, voice actor, and writer.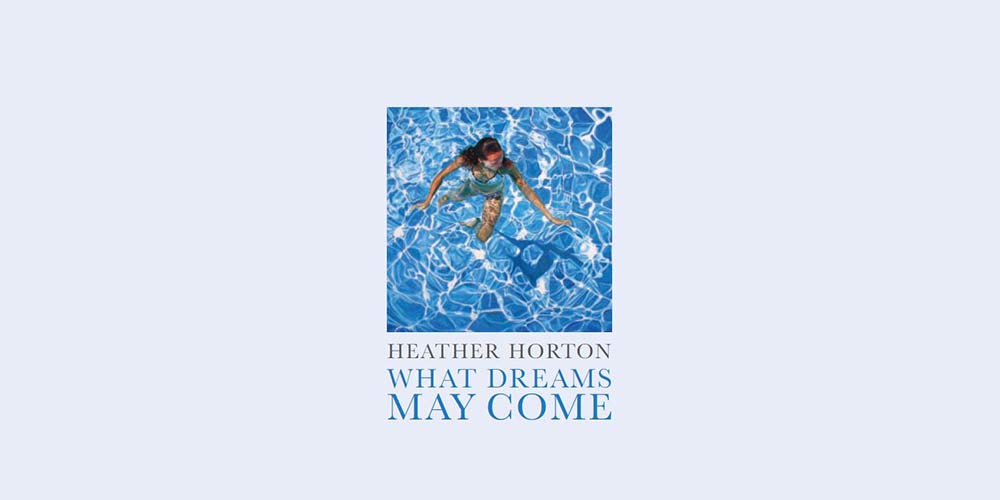 What Dreams May Come 2016
An exhibition of new paintings by Heather Horton, featuring a short essay by Betty Ann Jordan (Toronto arts writer and cultural tour leader).
24 pages, Released at Abbozzo Gallery, September 2016.
Published by Abbozzo Gallery
Photography of all paintings by Heather Horton
Page Layout and Design by Mimosa Creative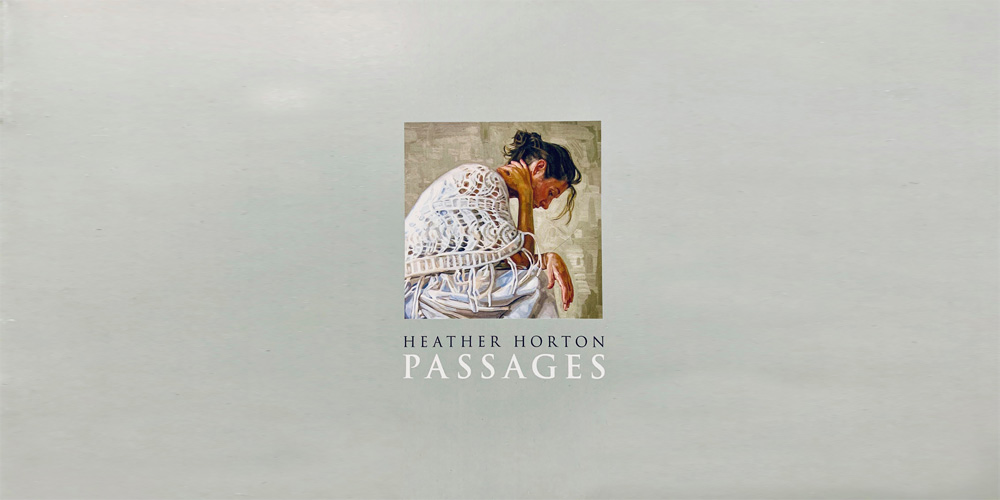 Passages 2007
Heather's first solo exhibition with Abbozzo gallery. This book is a collection of each piece from the exhibition. Featuring a forward by Ken Forsyth (Independent Fine Art Appraiser). 
27 pages, Released at Abbozzo Gallery, September 2007.
Published by Abbozzo Gallery
Photography of all paintings by Heather Horton
Page Layout and Design by Greenlight Graphics
For purchase inquires please contact Abbozzo Gallery at mail@abbozzogallery.com or 1 (866) 844-4481